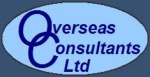 Overseas Consultants LTD
East Loughan,
Bretney Road,
Jurby East,
Isle of Man,
IM7 3EZ.
Tel: (+44) 1624 817 100
Fax: (+44) 1624 810 979
Our Alliance Partners
Overseas Consultants are proud to work with, and supply services to the following companies:


ABB UK
As a proven performer in the oil and gas industry, ABB continues to expand its industrial solutions for the hydrocarbon supply chain, encompassing production, processing, transportation, storage and distribution.

ABB's offerings include:

A fully integrated package of advanced petroleum refining and petrochemical process technologies
Engineering, procurement, and construction services
Automation products and systems
Electrical systems
Integrated telecommunication systems



OCL is proud to be working alongside ABB supplying skilled SCADA commissioning specialists to ABB on the BTC pipeline project which runs through Azerbaijan, Georgia, and Turkey.


Serck Controls LTD, UK
Serck Controls is a globally recognised supplier of data acquisition, control and safety systems.

Serck specialise in helping their clients to achieve competitive advantage through improvements in safety, efficiency and security of supply. They achieve this by using their advanced range of SCADA and control software with their highly resilient, programmable remote terminal units and controllers. This in conjunction with their industry specific applications expertise, amassed over the last forty years, has given Serck an enviable track record of reliable installations across the world.

OCL is proud to be a supplier of skilled SCADA Commissioning & Project engineers to aid Serck with it's ever growing portfolio of projects in countries such as Algeria, Pakistan, the UAE, Bangladesh, and the UK.


SCADA Solutions LLP, Kazakhstan
SCADA Solutions LLP is a Kazakh company, based in the oil town of Aksai in North West Kazakhstan. SCADA Solutions specialise in supplying skilled SCADA and Telemetry engineers for projects in the Republic of Kazakhstan. OCL are proud to be appointed as SCADA Solutions' sole source of expatriate skilled SCADA engineers for manning of projects involving installation and commissioning of SCADA systems from various vendors, and supply of training services in Kazakhstan.